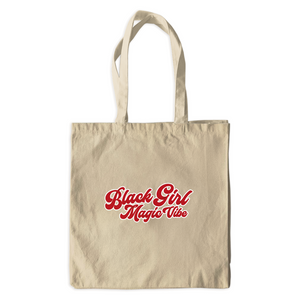 What a way to make a statement while carrying your items in this colorful canvas bag.
The front & back of the Black Stationery red & white canvas bag features a beautiful font that says "Black Girl Magic Vibe!" You can carry your pens, pencils, makeup, hand sanitizer, books, face masks, Kindle, groceries, etc...whatever you have in mind to fit inside of this gorgeous bag!
Dimensions: 15.75" h x 15.25" w Handle Length: 21.5"
The canvas tote bag features reinforced stitching on handles and it's made from 100% cotton sheeting.