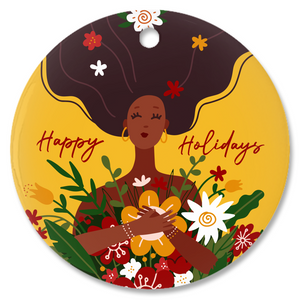 She's filled with gratitude!
The ornament features a beautiful African-American woman surrounded by flowers with her hand over her heart and says "Happy Holidays."
What a fun gift to give for the holidays, as well as to add a whole lot of color when decorating the Christmas tree!
Shape: Round! (single-sided) Size: Round Gold Back - 3"
Sturdy Ceramic: ready-to-hang with metallic gold loop string.
Glossy: Coating
Thickness: 0.12''
Care Instructions: Wipe with microfiber, non-abrasive cloth or napkin