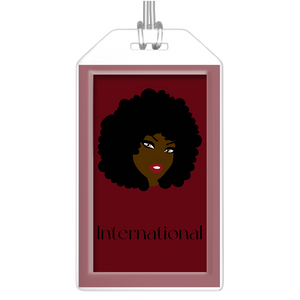 Oh, Yes! She's International; loves to travel! She's a girl about the world! Let's Go!
A beautiful African-American woman is on the front of each luggage tag with a vibrant red background. Sold in sets of two! On the opposite side are details to write in your info!
Keep belongings safe with a high quality 2.5x3.5 inch luggage tags. They are made of durable plastic, protecting it from water and impact damage, and includes a clear flexible tie strap. One side is the design and the other side is space to fill out name address, city, state, zip, and phone number.